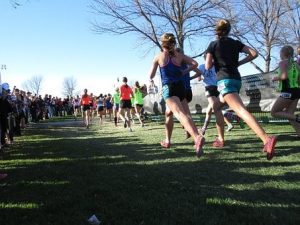 South Decatur Boys Cross Country captured the Mid Hoosier Conference Championship Saturday.  The Cougars scored 30 points, 10 points better than runner up Waldron.  North Decatur finished with with 83 points.
South Decatur's Trevor Newby was the individual champ in a time of 18:54.
Southwestern Shelby won the girls championship with 40 points.  South and North Decatur followed in second and third respectively with 51 and 56 points.
North Decatur results reported by coach Kyle Nobbe:
Jenna Walton- 2nd 23:11
Gracie Osting- 5th 24:16
Ellie Cox- 13th 26:49
Cecilia Barber- 23rd 30:39
Lauren Holloway- 25th 30:57
Hannah Allen- 28th 32:31
Paige Wesseler- 30th 35:06
North Decatur boys results reported by coach Nobbe:
Owen Geis- 16th 22:18
Kaysar Bowles- 17th 22:35
Ryan Hancock- 18th 22:52
Noah Weisenbach- 22nd 23:30
Adam Mack- 27th 25:15
Caleb Bowles- 38th 34:31
We thank coach Nobbe for the information.