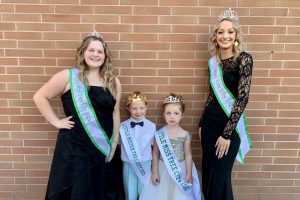 GREENSBURG, IN — Congratulations to the royalty crowned Friday at the opening of the Tree City Fall Festival.
Laykin Carmin was named Little Miss Tree City; Lillian Arnett was named 1st runner up; 2nd runner up was Cora Gauck, and the title of Little Miss Congeniality went to Ellie Gilbert.
Harrison Kress was crowned Little Mr. Tree City; Dakota Gearhart was named 1st runner-up and Mr. Personality.
Junior Miss Tree City is Chase Christianson; Hannah Fuel was named 1st runner-up and Junior Miss Congeniality.
And Miss Tree City 2021 is Grace Young; Taylor Smith was selected as 1st runner-up and Miss Congeniality, and Olivia Howard was named 2nd runner-up.
The festival wrapped up Saturday night.