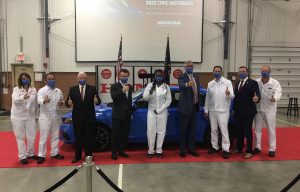 GREENSBURG, IN — Associates of the Honda Indiana Auto Plant in Greensburg were joined Monday morning by several dignitaries for a celebration to mark the start of mass production of the 2022 Civic Hatchback.
Honda has built Civic models in the United States since 1986, but this is the first time the Hatchback has been built in the United States.
Production began immediately.
Governor Eric Holcomb, U.S. Senator Todd Young (R-IN), Sixth District Congressman Greg Pence (R-Columbus), and Greensburg Mayor Joshua Marsh were in attendance at the introduction and kickoff event.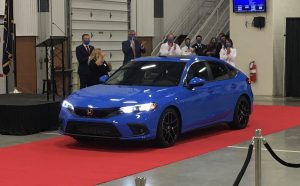 The company invested $50.2 million to prepare the facility for mass production of the all-new version of Civic.
The Greensburg facility is one of only two Honda plants in the world manufacturing the 2022 Civic Hatchback.