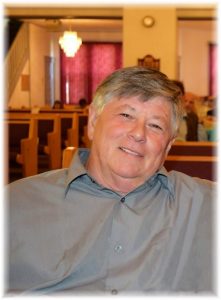 Danny Ray Cross, 74, of Brookville, entered into Heaven on September 19, 2021. He was born on January 12, 1947 in Cleveland, Tennessee.
Danny proudly served in the United States Marine Corp from 1964 to 1968 during the Vietnam era. He went on to marry the love of his life, Mavis (Prince) Cross, in 1968. Danny and Mavis celebrated 53 years together this year.
Anyone who knew Danny, knew that church was his passion. He dedicated the last 10 years to Galilean Baptist Church. Being the faithful leader that he was, Danny always considered his church family a part of his life.
When Danny was not in church, he could often be found playing guitar and singing with his grandchildren. He was also an avid fisherman who loved to spend time on the lake.
Danny will be deeply missed by his loving wife, Mavis; son, Danny Ray Cross II (Tracie); daughter, Alena Hendrix (Patrick) and adopted daughter, Shirley Steele; grandchildren, Justin Cross, Jeremey (Courtney) Cross, Jordan Cross, and Hannah (T.J.) Ohmer; great grandchildren, Aubrey, Greyson, Easton, Braelynn, Harper, and Berkeley; siblings, Frank, Donny, Roger, Sam, Sheila, Loyd, and Deborah; brother-in-law, Randy; and best friend, Steve Hayes.
Danny was preceded in death by his mother and father, Grace and Loyd Morgan.
Visitation will be held for family and friends from 1:00 P.M. to 3:00 P.M. on Friday, September 24, 2021 followed by funeral services beginning at 3:00 P.M all at Galilean Baptist Church in Centerville, IN. Burial will follow at Abington Cemetery in Abington, IN.
Memorials in honor of Danny can be given to the Cross Family. They may be brought to services or mailed to: Meyers Funeral Home, P.O. Box 202, Batesville, IN 47006.
At the request of the Cross family, we do ask that everyone who is present for the visitation and/or service wear a mask and practice social distancing. Please be respectful of the family's wish to keep their distance at this time.
Please feel free to leave a memory or a message of comfort for Danny's family in the online guestbook at www.meyersfuneralhomes.com