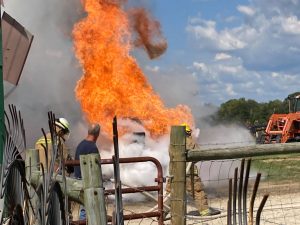 FRIENDSHIP, IN — Friendship firefighters battled a blaze that broke on a skid steer in the area of 800 South and State Road 129 just after 4 pm Saturday. There were no injuries reported.
The department was kept busy last week, with the National Muzzle Loading Rifle Association fall shoot, the Friendship Flea Market, and other events going on in the area.
They also dealt with an incident in which a deer hit the side of a motorcycle and a car fire that was touched off by a cigarette lighter that exploded after being left on one of the vehicle's front seats.