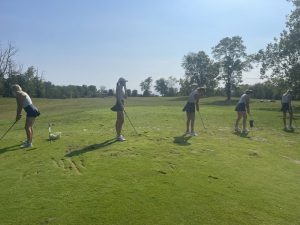 Franklin County finished runner up to host Richmond during Friday's girls golf sectional held at the Elks Country Club. The Red Devils won with 340, the Wildcats followed with 358 and Union County rounded out the team regional qualifiers scored 368 in third place.
Union County's Emma Kessens was the indivdiual sectional champion shooting a 79.
To earn a spot in a regional, a team must finish in the top three.  In addition, the top three low individuals on a non-regional qualifying team also advance.  Those advancing out of Richmond will head to the Lapel Regional on Saturday, September 25 at Edgewood Golf Club.
The Wildcats will be among those playing at Lapel.  Their individual sectional scores included: Nicole Mears 83, Crystal Calihan 88, Lillie Graf 91, Kelsie Brackney 96 and Jacy Brimmeissen 112.
"The Franklin County girls fired one of their best rounds of the season at the Elks for the IHSAA Sectional," said FCHS AD Denny Dorrel. "This score pushed the Wildcats to second place and sent the team on to next week's regional at Lapel."
The only other local team competeing at Richmond was Connersville which finished seventh with a 426.  They were led by Sarah Ruble with a 95.  Unfortunately, Ruble's total was not low enough to qualify for the next round of the tournament.
For complete results of the Richmond Sectional, click here.
We thank the IHSAA and Franklin County AD Denny Dorrel for the sectional information and Franklin County Girls Golf for the picture (taken during warmups for the EIAC Championship).