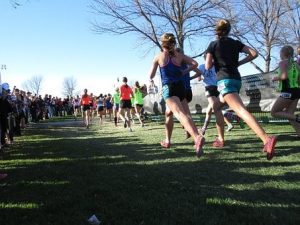 South Dearborn hosted its 22nd annual cross country invitational Saturday in Moores Hill.  The top local highlight was the East Central girls winning Division 1.  Below is a breakdown of the team and top 20 individual results in all four races.
Boys Division 1 team results: Greenfield-Central 1st/27, East Central 2nd/74, Rushville 3rd/81, Greensburg 4th/118, Simon Kenton 5th/127, Lawrenceburg 6th/148, Franklin County 7th/166, South Dearborn 8th/245, Taylor NTS
Girls Division 1 team results: East Central 1st/21, Taylor 2nd/66, Greensburg 3rd/81, Rushville 4th/106, Greenfield-Central 5th/121, Simon Kenton 6th/122, Franklin County 7th/204, Lawrenceburg/South Dearborn NTS
Boys Division 2 team results: Austin 1st/15, Jac-Cen-Del 2nd/83, Switzerland County 3rd/92, Rising Sun 4th/95, South Ripley 5th/101, Southwestern 6th/122, Milan/Oldenburg/Shawe NTS
Girls Division 2 team results: Switzerland County 1st/34, Austin 2nd/49, South Ripley 3rd/57, Jac-Cen-Del 4th/75, Milan/Oldenburg/Shawe/Southwestern NTS
Boys D1 Individual Top 20 (champ and local runners):
Girls D1 Individual Top 20 (champ and local runners):
Boys D2 Individual Top 20 (champ and local runners):
Girls D2 Individual Top 20 (champ and local runners):
Greensburg's Troy Davis reported that after not racing for three weeks, the Pirates had a number of strong performances. Sophomore Jake Hawkins broke 18:00 for the first time this season and set a new personal best. Hawkins earned fifth place in a time of 17:47. Sawyer Sanders ran 18:37, his fastest time of the year, to place 20th. Kole Stephens lowered his season best to 19:11 for 28th place. Cameron Schwartz recorded a season best performance of 19:27 for 32nd while freshman Paxton Harris ran under 20:00 for the first time ever. Harris finished in 19:29 for 33rd. Other varsity runners included Nate Murray (20:01) and Chase Tekulve. Tekulve had the best race of his freshman year running a personal best of 20:20.
TJ Gorman was top runner for Greensburg in the Reserve Race. He placed 12th overall in a time of 20:22. Other finishers for the Pirates were Brayden Emery 16th (20:32), Carson McCord 18th (21:11), Bryant Merritt 20th (21:24), Vaughn Verzo 23rd (22:19), Wyatt Clifford 27th (22:59), Caleb Berkemeier 29th (24:18), and Robert Browning 31st (26:27).
In the girls' competition, Emily Mangels was the top runner for Greensburg. The senior placed seventh in a time of 22:07. Freshman Tori Gauck ran her best time ever for 5k. She crossed the finish line in 11th overall with a time of 22:17. Sophomore Hannah Crowell also established a new personal best as she ran 22:30 for 14th place. Tiffani Gramman was 15th in 22:33. Malana Kramer finished 38th with a time of 25:35. Ally Foster had her fastest race of 2021 running 26:36 for 43rd. Sophie Nobbe was 45th in 26:39. Freshman Allison Kunze placed 10th in the reserve race in 29:08.
Jac-Cen-Del's David Bradshaw noted the following individual finishes for his Eagles: (boys) Josh Pohle 6th and medaled, Adam Maloney 17th, Cameron Reatherford 21st, Kameron Darnold 26th, Austin Rohls 31st, Jacob Ricke 38th, Gabe Maloney 41st, Austin Hammond 46th; (girls) Cloey Simon 8th and medaled, Kayla Simon 13 th, Allison Peetz 23 rd, Kinsey Rohls 27th, Shelby Reatherford 30th. Alijah Reatherford 31 st.
Franklin County's Stacey Nobbe reported Ben Maze, was the top finisher for  the Franklin County boys placing 15th. His time of 18:27 is closing in on his career best of 18:02. Adam Grant's time of 18:58 is still six seconds from his career best. He placed 25th out of 55 runners in his division. Hunter and Harmon Marshall are trying to drop down into the 19 minute range. Harmon's best time this season has been 19:59, twice, but he was 20 minutes even at South Dearborn. Eric Schwab had a great race and achieved a season PR of 21:32. He had a phenomenal finish, passing Lawrenceburg's Ashton Rasnake right in the finishing stretch. Owen Darwish continues to drop his time. He finished with a personal best time of 23:29.
For the Lady Wildcats, Katherine Apsley had her best performance of the season. She had a really strong finish with a season best time of 25:40.  Esther George was the top finisher for Franklin County's girls but she struggled to maintain her speed. She seemed to be affected by the rising temperatures during the race.
We thank Stuart Road Racing along with coaches Davis, Bradshaw and Nobbe for the information.