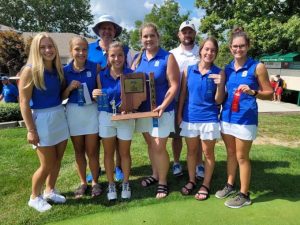 Batesville Girls Golf successfully defended two title Saturday at the Greensburg Country Club.  As at team, the Lady Bulldogs repeated as Greensburg Sectional Champions and, individually, Emma Weiler was Sectional MVP.  Weiler broke the school's 18-hole record with a (-3) 67.
BHS' team total of 328 was well in front of second place Greensburg with 423.  Rushville rounded out the top three regional qualifying teams shooting 430 for third place.  The regional will be hosted by Lapel at the Edgewood Golf Club on Saturday, September 25.
Batesville's team total was a whopping 41 strokes better than its championship total from 2020. Emma Weiler also bettered her prior year's MVP total by 10 strokes.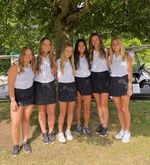 To qualify for regional, a team most place in the top three at sectional.  In addition, the top three low individuals on non-regional qualifying teams also advance.  At Greensburg, all three of those individuals were locals: Jac-Cen-Del's Tracy McKittrick (96…a personal best), Milan's Kayla Walke (100) and Oldenburg's Emerald Simmonds (102)
For complete results, click here.
Other local team results included East Central in fourth with 438 and Milan in fifth with 462.
Local individual scores from regional qualifying teams:
Batesville- Emma Weiler 67, Josie Meyer 80, Addyson Weiler 82, Tori Harpring 99, Chloe Murphy 113
Greensburg- Sarah Stapp 94, Anne Pumphrey 107, Elizabeth Mitchell 111, ALyea Lawrence 111, Kate Acra 117
Rushville- Isabella Wilson 93, Emilee Jackman 110, Claire Waits 112, Emma Tressler 118, Megan Alexander 115
Low indivdual scorers from other local teams:
Jac-Cen-Del- Tracy McKittrick 96 (regional qualifier)
Milan- Kayla Walke 100 (regional qualifier)
Oldenburg- Emerald Simmonds 102 (regional qualifier)
East Central- Jill Wilhelm 103
We thank the IHSAA, Batesville coach Tom Meyer and Jac-Cen-Del coach Jason Walke for the information.  For the pictures shown, we thank Batesville Girls Golf (upper) and Greensburg Girls Golf (lower).