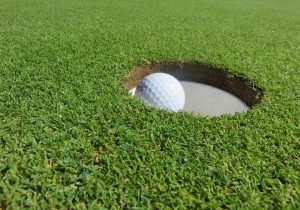 In the final home girls golf match of the season for Franklin County at Brook Hill Tuesday, the Lady Wildcats beat Union County by four strokes to capture the victory.  FCHS scored 172, Union County had 176 and Connersville totaled 200.
Franklin County scoring included: Nicole Mears 40, Crystal Calihan 42, Kelsie Brackney 44, Lillie Graf 46, Jacy Grimmeissen 47 and Kadence Leffingwell 56.  For Brackney, a senior, it was her last home match according to Franklin County AD Denny Dorrel.
Connersville coach Steve Ruble said it was his team's last match before sectional and the last regular season match for his five seniors.
"The upperclassmen made sure to enjoy every minute and had everyone laughing on the bus ride home," noted Ruble.
Scores from CHS seniors were: Kaylynn Mohr 50, Alivea Lynn 52, Kelli Caldwell 53, Kara Schneider 55 and Abby Badore 60.  Other scores included: Sara Ruble 42, Gabby Buehner 52 and Karlee Garrett 55.
"Our shot of the night came from Alivea Lynn on the par 5 second hole where she made a 10 foot eagle putt," stated Ruble.
We thank Mr. Dorrel and coach Ruble for the information.