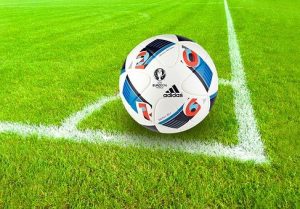 Regulation and overtime were not enough to decide Tuesday's EIAC girls soccer match in Brookville.  Host Franklin County eventually won the extended battle by edging Rushville in penalty kicks by a 4-3 count.
The match was 1-1 at halftime and 3-3 after regulation.  Rushville scored in the first half of overtime but Franklin County answered in the OT's second half to even the score at 4-4.  The Cats were one shot better than the Lions in the PK round to win the match 5-4 (4-3 PKs).
"The Cardiac Cats came from behind to beat Rushville after two overtime halves and a PK shootout," said FCHS coach Cindy Adams.  Goals scored (including penalty kicks) were: Kamryn Dozier three, Jordan Nichols two, Morgan Stewart two and Maegan Pearson one. Assists went to Claudia Mauntel, Kylee Bolser, Jordan Nichols, Kamryn Dozier.
Adams added Pearson was named Franklin County's Player Of The Game after saving two PK attempts by the Lions and also scoring the game winning penalty kick in the shootout.
"Our midfield and defense were excellent as usual and kept great possession," stated Adams.  "Everyone played their role well and the deep bench in Madesyn Sunderhaus, Kylee Bolser, Lily Knapp, Paige Ashcraft, Mackinzie Brzezinksi, and Liz Wendell are the secret sauce of the season."
"The Lady Lions took a hard loss on the road against the Lady Wildcats," said Rushville coach Kallie Peterman. Regulation goals were scored by Jin Calaf, Lexi Morris and Allie Yung. Morris' goal was on a free kick at the sideline and Yung's goal was a penalty kick following a Franklin County infraction in the box."
"During OT's first half, Yung scored a lone goal off a free kick to bring the score 4-3 Rushville," recalled Peterman. "In the second OT half, Franklin County secured another goal, tying the score at 4-4.  Yung, Morris and Gossett scored three goals in the shootout for Rushville, but Franklin County scored four to win."
The Rushville defensive line held the Lady Wildcats for seven offside calls. Keeper Macy Jo Seyfferle had three saves and Morris had 13.
"Our defensive line played one of their best games and our midfield and offensive players worked incredibly well together up top," Peterman stated. "Lexi Morris made another appearance at keeper which is not her typical position. She had an amazing second half and overtime. She guessed every single penalty kick correctly and just barely missed the ones that squeezed by. Not many goalies can jump the right way for every single kick, but Lexi did and we are so proud of her effort."
"We had so many great things going for us, and I know we will take what we learned and apply it to the rest of our games this week," concluded Peterman. "We played with a fire for the game that we haven't seen to this extent all season."
We thank coaches Adams and Peterman for the information.