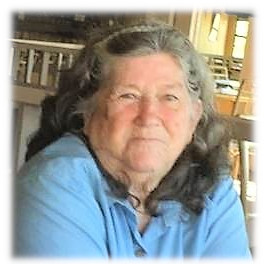 Shirley (Donley) Green, 83, of Grove City, Florida, formerly of Dillsboro, Indiana passed away Sunday, September 12, 2021 at Sarasota Memorial Hospital, Sarasota, Florida. Shirley was born on Friday, April 1, 1938, in Cincinnati, Ohio, the daughter of Ernest and Eleanor (Ollman) Donley. She married her loving husband, William "Bill" Green, on December 14, 1983. Shirley was formerly employed at the Dillsboro School cafeteria and the Dillsboro Manor. She was a member of the Rotonda West American Legion Auxiliary. She had many hobbies which included going to Bingo and the arcade, and she enjoyed sewing and crafting. In her younger years, she and Bill enjoyed fishing and boating. She also loved having visitors and everyone was always welcome to share a meal, spend the night or take a boat ride.
Shirley will be missed by her surviving family including her husband, Bill Green, of Grove City, FL; four children Peggy (Chad) Day of Covington, KY, Becky (Steve) Chipman of Dillsboro, IN, Beverly Utter of Cincinnati, OH, and James (Ruth) Utter, Jr of Park City, MT; five stepchildren William Conley (Lynne) Green of Moores Hill, IN, Cindy Green of Englewood, FL, Robin Cleeter of Dillsboro, IN, Candy Dearden of Versailles, IN, and Shelly (Jerry) Mullins of North Port, FL; brothers Ernie Donley of Aurora, IN, Billy Donley and Johnny Donley both of Englewood, FL; Grandchildren Stephanie (Jeff) Taylor, Joel Van Cleave, Maria Salazar, Toni Proffitt, Jay and Lacey Utter; Great Grandchildren Devon, Xavier, Rylan, Kayleigh, Paxton and Phoenyx; several step-grandchildren, great grandchildren, and great, great grandchildren, nieces, nephews, and many friends.
Shirley was preceded in death by her parents, sisters Betty Jean Houze and Wanda Lee Donley, brothers Everett (Violet) Donley and James Donley, and sisters-in-law Connie Donley and Jackie Donley.
Private services will be held at the convenience of the family. Memorials may be given in honor of Shirley to the Oakdale Cemetery. Filter-DeVries-Moore Funeral Home has been entrusted with arrangements, Box 146, Dillsboro, IN 47018, (812)432-5480. Please visit our website at www.filterdevriesmoore.com to share your condolences and memories of Shirley.