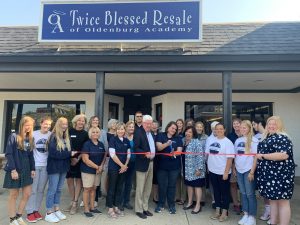 BATESVILLE, IN — Twice Blessed Resale of Oldenburg Academy celebrated its 15th anniversary recently with a ribbon-cutting.
Manager Tonya Hudepohl and her staff were joined at the event by Batesville Mayor Mike Bettice and other city officials, Batesville Area Chamber of Commerce staff, and many others.
Twice Blessed is a donation-based thrift store owned and operated by Oldenburg Academy and offers clothing, accessories, home decor, furniture, artwork, and more.
The shop is located at 147 Village Square in downtown Batesville.
Hours are 9 am until 5:30 pm Monday through Friday, Saturday 9 am until 2 pm, and closed Sunday.
Twice Blessed Resale's phone number is (812) 932-1414.