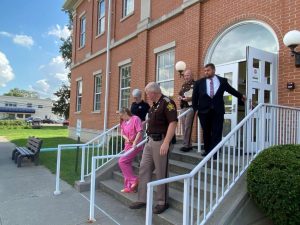 VEVAY, IN — A Switzerland County woman was sentenced Tuesday to 30 years in prison, with two years suspended, for her role in the death of her ex-boyfriend three years ago.
Vivian Moore was originally charged with murder but pleaded guilty to Felony Level 1 Conspiracy to Commit Murder in connection with the June 2018 death of Dennis Dziwulski.
Dziwulski's remains were found in the woods behind the mobile home he rented on Beatty Ridge Road in Switzerland County.
Moore's son, Justin Girdler, is also charged in connection with the death.
The pair told authorities that Dziwulski was abusive.
Investigators say Dziwulski was hit in the head with an iron skillet and a hammer as he slept.
His body was then disposed of in the woods behind the home.
Girdler is awaiting trial on a Murder charge.