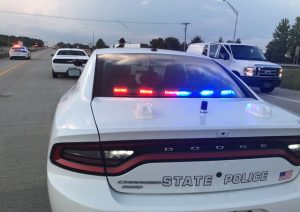 JACKSON/BARTHOLOMEW COUNTIES, IN — Indiana State Police say a Tennessee man was arrested Tuesday evening after leading police on a ten-mile pursuit through Jackson and Bartholomew Counties.
The incident began at approximately 6 pm when State Police received a report that a white Dodge Challenger was driving erratically on I-65 northbound, entering Jackson County from Scott County near the 36-mile marker. Multiple callers reported that the vehicle was weaving on the road and erratically changing speeds.
Deputy Alan Jones with the Jackson County Sheriff's Department located the vehicle traveling northbound on I-65 near the 50-mile marker at Seymour. ISP Sergeant Stephen Wheeles caught up to Deputy Jones and the Dodge Challenger, being driven by 31-year-old Matthew Trey Murphy of Chattanooga, Tennessee. Deputy Jones and Sgt. Wheeles attempted to stop the vehicle on I-65 near the 54-mile marker in northern Jackson County.
Murphy slowed initially before accelerating and fleeing from the officers. Officers pursued Murphy at speeds of approximately 50 to 75 miles per hour northbound into Bartholomew County. Murphy took evasive action to avoid a tire deflation device placed near the 63-mile marker. Murphy then slowed the vehicle and came to a stop just north of exit 64 near Columbus, Indiana.
Sergeant Zachariah Ruble and Trooper David Simpkins, Indiana State Police-Versailles, arrived to assist. Matthew Murphy was eventually taken into custody. He was transported by ambulance to Columbus Regional Hospital where he submitted to a blood test for intoxication. The results of the test are pending at this time. Upon being released from the hospital, Murphy was transported to the Bartholomew County Jail where he was incarcerated on initial charges of Resisting Law Enforcement, Operating While Intoxicated, and Reckless Driving.
I-65 Northbound was closed for approximately one hour while the scene was cleared. Bartholomew County Animal Control responded to remove a dog from the vehicle.
(Indiana State Police press release)