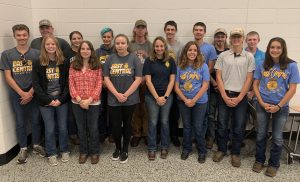 ST. LEON, IN — Sixteen East Central FFA members competed in the Area One Livestock Skillathon Career Development Event (CDE) on Wednesday, September 8. The event was held at South Ripley High School.
In this event, an FFA member tests their knowledge on beef cattle, swine, sheep, and meat-type goats. Events include breed, retail meat cut, feed ingredient, and livestock equipment identification.
They also complete an industry quiz and complete a quality assurance exam.
The top team for East Central placed sixth out of 13 teams and consisted of Bradley Kolb, Riley Shumate, Jacob Kuhn, and Josie Hartman.
Bradley Kolb was the top individual for EC, placing ninth out of 51 contestants.
(East Central FFA press release)