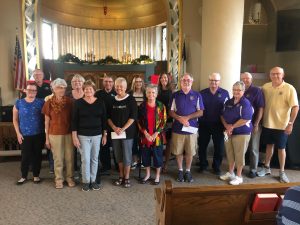 VERSAILLES, IN — A total of $599,283 in grants were awarded to eight non-profit organizations in the Versailles area Tuesday night at the 165th birthday celebration for Uncle Jim Tyson, which took place in the Tyson United Methodist Church sanctuary.
The following organizations received 2021 Tyson Fund grants:
Main Street Versailles – $5,742 for operating expenses and programs in the town throughout the year.
Ripley County Historical Society – $2,072 to purchase a new commercial-grade door for the entryway.
Tyson Activity Center (TAC) – 46,230 for program funding at TAC, to repair drainage issues at TAC and possible improvements to the gym floor area.
Town of Versailles – $357,406 for improvement of the waterline along Benham Road, matching funds for sidewalk and street improvements, new pickup truck payment, purchase of a new small tractor the Sports Complex, new mini-excavator, and sanitary sewer repairs in town.
Tyson Library – $150,000 to fund programs and the operating budget for the benefit of citizens in the community.
Versailles Fire Department – $25,000 for payment on a Rescue Truck. The truck was purchased last year. This is another payment on the vehicle.
Tri-Kappa – $2,978 to purchase more brackets for the placement of veterans banners around town.
Versailles Lions Club – $10,000 for the 2021 Pumpkin Show entertainment, advertising, rental of the stage area and sound system, and other expenses incurred by the Lions Club.
The amount of available money this year is less than in recent years because of the COVID-19 situation in 2020.
James H. Tyson set up the fund in 1930 using $74,000 in Walgreens stock as a gift to his hometown for religious, literary, educational, and social advancement in Versailles and vicinity, and to provide relief from a portion of the burden of taxation among Versailles residents. The Tyson Fund is now worth $22 million.
Only residents of the Town of Versailles may vote for projects and grants that are given out annually every September 14.
This is the 90th year the grants were made to non-profits in the Versailles area.