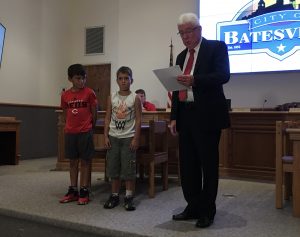 BATESVILLE, IN — Two young boys who have received national attention after they were photographed hopping off their bikes to pay respects as a military veteran's funeral procession passed by received special recognition at Monday night's Batesville City Council meeting.
Lane Moody and Christiano Barajas received commendations from Mayor Mike Bettice and were each presented an autographed copy of local Marine veteran Tom Schwettman's book about the Corps.
"I never thought they'd get that much attention from a photo," said Lane's father, Sean Moody. "You see other photos online going big but you never think it would happen to your kid on there."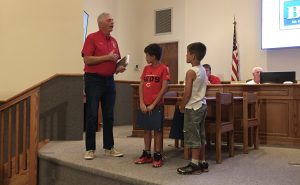 Christiano's mother, Michelle Roberts, also reacted to all of the attention the pair has received. "I'm very proud of both boys. Very proud…speechless," she said.
The boys were photographed – without their knowledge – by Jacqui Hornbach after they stopped their bikes and stood at attention when the procession for 89-year-old Charles Yorn went past them and headed into the Methodist Cemetery. The photo soon went viral.