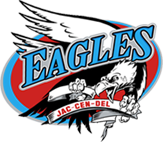 Jac-Cen-Del hosted it's annual cross country invitational Saturday.  Switzerland County's girls and Hagerstown's boys were the team champions.  The Lady Pacers Claire Rogers won the girls' meet in 20:29.  Milan's Ben Riehle finished 16 seconds behind Hagerstown's Quaid Mull who won the boys' race in 17:00.
Team results, individual top 1os and a link to the full results follow.
Girls- Switzerland County 1st/22, South Ripley 2nd/77, Southwestern 3rd/100, Jac-Cen-Del 4th/104, Hagerstown 5th/111, South Decatur 6th/119, North Decatur 7th/138, Lawrenceburg/Milan NTS
Boys- Hagerstown 1st/35, Southwestern 2nd/108, Rising Sun 3rd/111, South Decatur 4th/119, South Ripley 5th/126, Lawrenceburg 7th/127, Jac-Cen-Del 8th/132, Switzerland County 9th/139, North Decatur 9th/192, Milan NTS
Girls individual Top 10:
1 Claire Rogers, 20:29.1 Switzerland County
2 Grace White, 21:10.5 Switzerland County
3 Amber Detmer, 21:41.6 Switzerland County
4 Kirsten Geary, 21:48.4 Southwestern (Hanover
5 Emily Campbell, 21:50.1 South Ripley
6 Jenna Walton, 22:07.0 North Decatur
7 Alisha Detmer, 22:26.4 Switzerland County
8 Deborah Murphy, 22:28.2 South Ripley
9 Carlee Boggs, 22:38.7 Switzerland County
10 Cloey Simon, 22:48.4 Jac-Cen-Del
Boys individual Top 10:
1 Quaid Mull, 17:00.6 Hagerstown
2 Benjamin Riehle, 17:16.3 Milan
3 Quentin Osborne, 17:22.1 Hagerstown
4 Josh Pohle, 17:22.6 Jac-Cen-Del
5 Grant Hensley, 17:23.9 Lawrenceburg
6 Cooper Hon, 17:53.4 Switzerland County
7 Nathan Furnish, 17:57.7 Switzerland County
8 Peyton Merica, 18:01.5 Rising Sun
9 Trevor Newby, 18:02.2 South Decatur
10 Ayden Potts, 18:09.9 Milan
Please click on these links from Stuart Road Racing and Jac-Cen-Del coach David Bradshaw for complete girls results and boys results.
Coach Bradshaw highlighted his finishes for the Eagles.
JCD individual boys: Josh Pohle 4th, Adam Moloney 26th, Cameron Darnold 32nd, Cameron Rutherford 35th, Austin Rohls 36th, Jacob Rickie 54th, Gabe Maloney 57th and Austin Hammond 58th.
JCD individual girls: Cloey Simon 10th, Kayla Simon 11th, Allison Peetz 30th, Virginia Minch 34th, Kinsey Rohls 37th, Shelby Rutherford 47th and Alijah Kirshner 50th.
North Decatur coach Kyle Nobbe said the Charger boys all ran well setting numerous personal record times as well as season best times while the girls had several quality runs.
ND individual boys:
Aiden O'Dell- 20:17 Season Best
Jack Cathey- 20:54 Season Best
Ryan Hancock- 21:00 Personal Record
Owen Geis- 21:04 Season Best
Kaysar Bowles- 21:05 Personal Record
Noah Weisenbach- 22:41 Personal Record
Mason Dimett- 23:12 Personal Record
ND individual girls:
Jenna Walton- 6th place 22:06-Season Best time
Gracie Osting- 24:09
Lauren Holloway- 27:25 Season Best Time
Cecilia Barber- 28:49 Personal Record
Hannah Allen- 29:29
Addie Gauck- 29:44
We thank coach Bradshaw, coach Nobbe and Stuart Road Racing for the information.