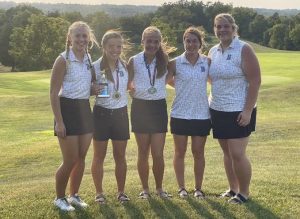 Batesville won the EIAC Girls Golf Championship held Saturday at Grand Oak.  The Lady Bulldogs shot 367, 24 shots ahead of second place Franklin County at 391.  Emma Weiler of BHS easily won MVP honors with a 71.  Both the Bulldogs and Wildcats placed four members on the 12-member all-conference team.
Team scores, all-conference members and a link to all individual scores follow.
Team results: Batesville 1st/367, Franklin County 2nd/391, Lawrenceburg 3rd/407, Connersville 4th/425, East Central 5th/445, Rushville 6th/450 and South Dearborn 7th/471.
All-Conference (top 12)
1st MVP- E. Weiler 71 (BA)
2nd- A. Weiler 84 (BA)
3rd- Shelton 88 (LB)
4th- Mears 92 (FC)
5th- Calihan 96 (FC)
6th- Schmidt 97 (LB)
7th- Mohr 97 (CO)
8th- Wilson 100 (RU)
9th- Brackney 101 (FC)
10th- Graf 102 (FC)
11th- Murphy 103 (BA)
12th- Pohlman 104 (BA)
For a complete list of individual scores from East Central AD Don Stonefield, please click here.
"Emma Weiler was tournament medalist with a 71. Addyson Weiler finished second while Madelyn Pohlman and Chloe Murphy also made the all-conference team," said Batesville coach Tom Meyer.
Franklin County AD Denny Dorrel noted, "FCHS Golf placed four on the all-conference team: Nicole Mears (92) placed 4th, Crystal Calihan (96) placed 5th, Kelsie Brackney (101) placed 9th, and Lillie Graf (102) placed 10th. Jacy Grimmeissen rounded out the day with a 108."
We thank Don Stonefield, Tom Meyer and Denny Dorrel for the information and Batesville High School via Twitter for the picture.