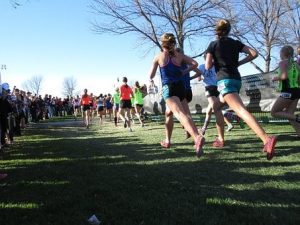 Batesville traveled to Indianapolis Saturday to compete in the Ben Davis Invitational.  BHS coach Lisa Gausman says in her report, this was no little invite as the boys competed against 18 teams and the girls against 19.
"Both the boys and the girls team competed well with several overall personal bests and many for the season," said Gausman.
The boys started things off with a 9:30 race time and the Bulldogs had three runners in the top 30 with two of them in the top 10!  The Dogs were led by senior Adam Moster with a 5th place finish and very close to an overall personal best with a time of 16:22. He was followed closely by senior Ean Loichinger placing 9th at 16:36. Another senior, Daren Smith, crossed the line with a 28th place finish and racing at 17:37.  Freshman Jake Chapman came in fourth for the Bulldogs and was close to the top 30, finishing at 32nd with a personal best of 17:49. Kyler Daulton finished out our top five in 49th.
The Bulldogs captured an impressive third place finish scoring 118 points, getting beat by Center Grove, scoring a very low 24 points, and Franklin Central with 69.  Finishing out the top five teams were Greenfield-Central at 126 and Danville with 149.
A half an hour later, the girls stepped up to the line and really packed things up with the top five runners within 50 seconds of each other to secure a fourth place finish. The girls had four in the top 30 and were led by senior Lily Pinckley, placing 15th at 20:20. She was followed closely by freshman Kaylynn Bedel at 20:29 and placing 19th. Megan Allgeier running 20:41 and Ava Hanson at 20:54 crossed the line next for the Bulldogs placing 23rd and 29th respectively. Finishing out our top five was Maria Lopez, just two spots short of being in the top 30 at 32nd in 21:08.
The top 5 teams on the girls side were: Avon winning with a score of 60, Franklin Central in second at 80 points, Brownsburg scored 99 the Bulldogs were next with 117 and Park Tudor finished out the top five scoring 132.
Other personal bests for the day were Sophomores Benjamin Adams and Ella Moster.
Full results can be found on BDInvite.com.
We thank coach Gausman and Ben Davis High School for the information.