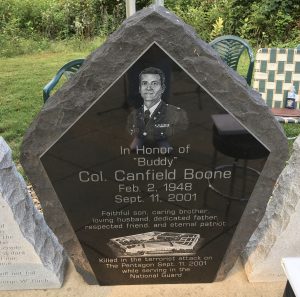 SOUTHEASTERN IN — Southeastern Indiana joined the rest of the country on Saturday in marking the 20th anniversary of the September 11 terrorist attacks with remembrances and services.
Milan remembered their native son U.S. Army Col. Canfield "Buddy" Boone during a Remembrance Ceremony at Daren Baker Memorial Park. Boone was a 1966 graduate of Milan High School.
"Buddy was a classmate who made you laugh, but Buddy was – by no means – the class clown," said Steve Pruss, who graduated with Boone from Milan High School. "His humor was much more intelligent than that.
"We remember Buddy as a friend who had a caring heart, who loved his family and classmates, and lived life to the fullest," Pruss added.
The ceremony featured other speakers and music, along with 21-gun salutes and the playing of "Taps" to mark each time one of the hijacked planes crashed that day.
The Greensburg Fire Department hosted a 9/11 Memorial Service at Fire Station 1 on Saturday morning.
"I never want to see another September 11 in my lifetime, but I would sure love to see another September 12, 13, 14…the days and weeks following that tragic day," said Assistant Fire Chief Brian Wenning. "Our country came together, put aside our political differences, our socio-economic differences. We cried together and we prayed together. That's the country I miss 20 years later."
Other ceremonies were held across the state and the country.