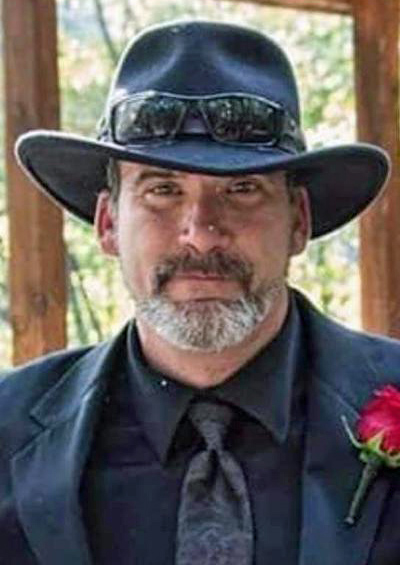 John Henry Lockridge was born August 10, 1978, and passed away September 8, 2021, at Brookville Health Care Center.  He was the proud father of four beautiful children: Anastasia, Jasmine, Laynie, and Dalton.  He also shared his paternal love with his two stepchildren, Drew and Grace.  He is survived by his father and stepmother, John and Teresa Lockridge, his mother and stepfather, Donna and Mickey Rosenberger, his sister Shawna (Jim) Evans and their six children, two stepsisters, Esther Lynch and Terra (Matt) Loeffler, and their two children, a step-brother, Wade (Tracy) Rosenberger and their daughter.  John also left behind his devoted partner whom he chose for life, Dawn Becker, the six children they shared together and three grandchildren, Benji, Xavier, and Melody.  John will be forever missed by Jeremy (Hollie) Noah, his brother by choice and heart, his guardian, and his life-long best friend and their three children who called him uncle.
John had an insatiable passion for the water.  Tugboat was a United States Merchant Marine with coast guard credentials to pilot vessels through the ICW and inland rivers.  Tugboat started his career as a deckhand on a riverboat and first mate at Bray Marine in Lawrenceburg, IN.  He then served as a level three tankerman for Genesis Marine in Houston, TX.  After a great deal of dedication and hard work, he accomplished his dream to pilot vessels with Savage Industries shortly before a tragic motorcycle accident on July 27, 2019.
John was a member of the Eagles of Brookville, the BrokeAss Bikers of Laurel, and the Noah Brothers Pyrotechnics family and shared his grand finale beside them in July of 2019 at the Annual Metamora Fireworks Show.  Never a day went by when John was without a mischievous grin, a sense of humor, and the soul of patience.  He loved to sing; and knew no stranger.  Tugboat was a much-loved individual and will be greatly missed by so many.  Everyone was his cousin, he truly knew how to enjoy life, and he loved his Sailor Jerry.
There is always hurt and sadness when someone is lost too soon.  However, Tugboat was never afraid of uncharted water; he always carried a tune in his heart; and he had great love and compassion for everyone he met.  He would not want us to cry, but to celebrate that he is now whole again, able to throw a line standing on his own two feet; and move about freely wherever and whenever he wants.
Friends and family may gather to pay their respects on Friday, September 17th at 3:00 at Phillips and Meyers Funeral Home, and the service will begin at 4:00.  After the service, John's friends are cordially invited to the Eagles where a celebration of life will take place the way John would have wanted.  Dinner at the Eagles will be served beginning at 5:30 P.M. and a celebration will carry on through the evening.
The staff of Phillips & Meyers Funeral Home are honored to serve the family of John H. Lockridge, to sign the online guest book or send personal condolences please visit www.phillipsandmeyers.com.