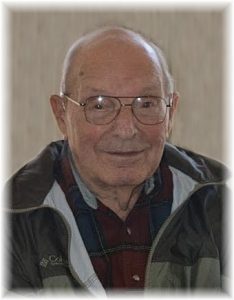 A celebration of life will be held for Russell J. Eckstein on Sunday, September 19, 2021 from 3 to 7 PM at the St. Leon Legion located at 28866 Post 464 Road, Brookville, IN 47012. Family and friends will be gathering to share favorite memories and stories of a wonderful man, who is greatly missed.
—
Russell James Eckstein, age 96 of Batesville, Indiana, passed away on Tuesday, December 8, 2020. The son of Henry and Augusta (Gindling) Eckstein was born on January 30, 1924 in Sunman, Indiana.
The proud US Army WWII veteran, served in India, Burma and China. Russell married his sweetheart, Rita Hartman at St. Nicholas Catholic Church, on April 7, 1951.
He worked for many years as a finisher for Romweber Furniture Company until he retired. He was a member of St. Louis Church, the St. Joseph American Legion Post #464 in St. Leon and VFW Post #3183 in Batesville.
Russell had many interests and hobbies throughout his life. He was known as an expert gardener around the area. People would bring him dying plants that he could always bring back to life. He has enjoyed hunting and fishing since he was young, providing the food for many meals and game fries. As an avid reader he had a few favorites, including, National Geographic, History and Louis L'Amour novels. Russell also played thousands of games of cards with friends, family and grandchildren. Solo was his favorite. He had a passion for the Cincinnati Reds which he passed onto his kids and grandkids, sharing many games together over the years. He and his wife, Rita enjoyed traveling and made lifelong friendships as they visited all 50 states, Bermuda, Western Europe, Puerto Rico, and wintered in Florida.
His strong faith, love of God and the Virgin Mary showed in all he did. He was a perfect example of what a father, grandfather, brother, uncle and friend should be. At the sound of Russel's voice you could hear the goodness in his heart. Stories of Russell will be told for years to come.
He is survived by his wife, Rita; daughters, Michelle Roth (Dennis) and Dolly Stirn (Paul); sons, Sam Eckstein (Rita), Kenny Eckstein (Gail), Don Eckstein (Betsy), Roger Eckstein (Lori); 13 grandchildren, 8 great grandchildren and 1 on the way.
In addition to his parents, he was preceded in death by his sisters Alvina Hartman and Luella Ripperger.