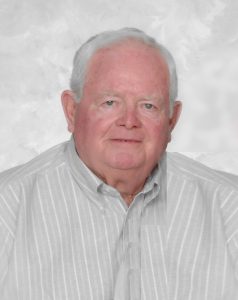 Victor "Vic" Greive, Jr., 91, of Aurora, Indiana, passed away Sunday, September 5, 2021.
Vic was born April 30, 1930, in French, IN, on the family farm along Laughery Creek. He was the oldest son of the late Victor Greive Sr.and Margaret (Spencer) Greive. Vic was an outdoorsman and spent a lot of time in his younger years hunting and fishing. Vic worked on the family farm until becoming a Union Carpenter. He then worked for Miller Construction and Sons for 18 years, after that, he was self-employed as a construction manager. He furthered his career by working for the Dearborn County Highway Department as highway supervisor and later worked for the conservancy district in Lawrenceburg for eleven years. Vic was one of the founders of the Aurora Pee Wee Football League, and was active in it for over 15 years. He was a member of St John's Lutheran Church Aurora and the Aurora Eagles.
Vic is survived by his loving spouse of over 70 years, Joan (Willen) Greive; children, Thomas A. Greive of Aurora, IN, Vicki A. (John) Walukonis of Anderson, IN, Gary L. Greive (Tammy Hubbard) Daniel R. Greive of Layton, UT, Timothy J Greive (Tammy Gregory) of Aurora, IN; grandchildren, Casie (Anthony) Nocito, Andrew (Monica) Walukonis, Leah Greive, Matthew (Melissa) Greive, Chelsie (Matthew) Hanna, Stacie (Trever) Varney, Courtnie Greive; great-grandchildren, Tyler, Marin, Carter, Daylan, Jackson, Christian; siblings, Donny (Shirley) Greive of Aurora, IN, Phyllis Nead of Orman Beach, FL, and Peg (Steve) Klepper of Holland, OH; sister-in-laws, Jackie Grieve of Aurora, IN and Rosemary Grieve of Burlington, KY. He was preceded in death by his parents; siblings, David ve, Kenneth Greive, Jimmy Greive and infant sister, Bonnie Greive.
Friends will be received Thursday, September 9, 2021, 12:00 pm – 2:00 pm at the Rullman Hunger Funeral Home, 219 Mechanic Street, Aurora, IN.
Services will be held at the Funeral Home, Thursday at 2:00 pm with Pastor Ronald Stephens officiating.
Interment will follow in the River View Cemetery, Aurora, Indiana.
Contributions may be made to the Aurora Life Squad. If unable to attend services, please call the funeral home office at (812) 926-1450 and we will notify the family of your donation with a card.
Visit: www.rullmans.com