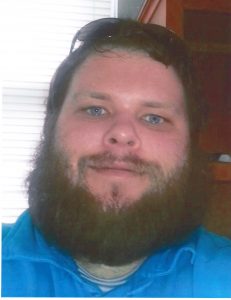 Mr. Thomas Michael Truesdell, age 33, of Cincinnati, Ohio, entered this life on February 5, 1988 in Madison, Indiana. He was the loving son of, Patricia Ann (Truesdell) Loveless. He was raised in Trimble County, Kentucky where he was a 2006 graduate of the Trimble County High School. Thomas excelled in the marching band where he played the drums, harmonica, trombone and the tuba. Thomas was appointed as the drum major his senior year of high school and was also the band assistant. During high school, Thomas also enjoyed singing and was a member of the Madison Community Band in Madison, Indiana. He also loved sports and played baseball and football and won numerous awards. He was inducted into the National Honor Society and achieved several academic awards. Thomas enjoyed weight lifting competitions and umpiring baseball games during his high school career. After high school, Thomas was employed for WalMart in Carollton,. Kentucky for one year. He attended the Cincinnati Bible College and interned at Mt. Byrd Christian Church in Milton, Kentucky from 2006-2008. Thomas was united in marriage on June 13, 2009 at the Center Square Church of Christ to Mary Meghan Kyrlach. This union was blessed with a daughter, Amanda Rose Truesdell. Thomas was employed as a manager for Roc-A-Fellas Pizza in Cincinnati, Ohio from 2012-2014. From 2014-2016, he was employed for FedEx in Independence, Kentucky. Thomas was currently employed as a fabricator for Duro-Dyne Midwest in Hamilton, Ohio since April 27, 2017. Thomas was a member of the Center Square Church of Christ in Center Square, Indiana where he was baptized in 1996. Thomas enjoyed playing video games and board games, sports and watching the Cincinnati Bengals. Above all, Thomas loved spending time with his daughter and going on daddy daughter dates. Thomas passed away on Friday, September 3, 2021, in Blue Ash, Ohio.
In addition to his daughter, Thomas will be deeply missed by his heartbroken mother, Patricia Ann (Truesdell) Loveless and her husband, Kevin of Erlanger, KY; his siblings, Stephan McClellan and his wife, BreeAnne of Hanover, IN, Brooklyn Phoenix of Bedford, KY, James Loveless of Newport, KY and Rachel Wagner and her husband, Billy of Walton, KY; his maternal-grandparents, Bro. Don E. and Carolyn Jean (Russell) Truesdell of Vevay, IN; his aunts and uncles, Donna and Bill VanHook of Jeffersonville, IN, Pamela and Donald Faber of Cincinnati, OH, Debra and David Williams of Cincinnati, OH and Paul and Pamela Truesdell of Cincinnati, OH; his numerous nieces, nephews and cousins and his best friend and cousin, Nathan Faber of Cincinnati, OH.
He was preceded in death by his maternal-grandparents, Charles and Catherine (Pratt) Russell and Harry and Albertha (King) Truesdell and his aunt, Karen Sue (Truesdell) Mizer.
Visitation will be held from 4:00 p.m. – 7:00 p.m., Thursday, September 9, 2021, at the Haskell & Morrison Funeral Home, 208 Ferry Street, Vevay, Indiana 47043.
Funeral services will be conducted at 11:00 a.m., Friday, September 10, 2021, at the Center Square Church of Christ, 10351 Protsman Road, Vevay, Indiana 47043
Interment will follow in the Jacksonville Cemetery, Jacksonville, Indiana.
Memorial contributions may be made to the Amanda Rose Truesdell Education Fund c/o Carolyn Truesdell. Cards are available at the funeral home or online at www.haskellandmorrison.com