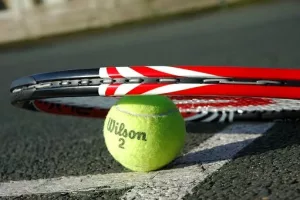 Batesville Boys Tennis defeated Lawrenceburg 5-0 Thursday to improve to 4-1 on the season and 1-1 in the EIAC.
BHS coach Mitchell Taylor noted Jaden Smith and Cael Rahe led the way with a 6-0, 6-0 win and a 6-1, 6-0 route respectively to give the Bulldogs their first two points of the night. They were followed by Alec Bunselmeier and Sam Johnson with a 6-0, 6-0 sweep to gain the winning point for the boys tennis team.
Match scores:
1st Singles- Carl Rahe (BA) def. Ben Schmidt (LB) 6-1, 6-0
2nd Singles- Jordan Smith (BA) def. Mehyav Safaviyan (LB) 6-0, 6-0
3rd Singles- Lyle Oesterling (BA) def. Logan Bruner (LB) 6-1, 6-1
1st Doubles- Cole Pride/Tracy Jackson (BA) def. Zander Starrett/Elijah Koons (LB) 6-1, 6-1
2nd Doubles- Alec Bunselmeier/Sam Johnson (BA) def. Chris Parks/Zander Pittenger (LB) 6-0, 6-0
We thank coach Taylor for the information.