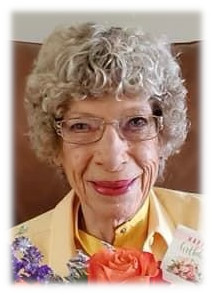 Thelma M. (Gulley) Reese, 86, of Milan passed away Thursday, July 29, 2021, at Ripley Crossing in Milan. Thelma was born in Brooksburg, Indiana on Saturday, September 15, 1934, the daughter of the late Elmer and Alta (Reamer) Gulley. She married Grover Reese on April 17, 1954 and enjoyed 55 years together until his passing on August 14, 2009. Thelma worked in the office for Stedman Machine Company in Aurora, Indiana for over 30 years. She was a member of St. Paul Lutheran Church and the Milan American Legion Ladies Auxiliary, which she was very active in, and volunteered many hours of service for each. Thelma enjoyed her flowers, volunteered at the local food pantry, and spending time with her late husband on camping adventures. Her greatest passion in life was spending time with her family, especially her grandchildren.
Thelma will be missed by her loving family including her son Paul (Patricia) Reese of Milan; sister Barbara Seaver; grandson Tyler Reese (fiancé Jenna Marston); and granddaughter Kelsey (Adam) Lee. She was preceded in death by her parents, husband Grover, three brothers, three sisters, and two brothers-in-law.
A Celebration of Life will be held from 4-7 PM on Wednesday, August 18, 2021, at Laws-Carr-Moore Funeral Home in Milan with the Milan American Legion Ladies Auxiliary service at 6:45 PM. A service celebrating her life will be held at 7 PM following the Auxiliary service with Pastor Sue Socha officiating. Memorials may be given in honor of Thelma to the St. Paul Lutheran Church or the Milan American Legion Ladies Auxiliary. Laws-Carr-Moore Funeral has been entrusted with arrangements, 707 S. Main Street, Box 243, Milan, IN 47031, (812) 654-2141. Please reach out through our website at www.lawscarrmoore.com to leave an online condolence or a memory of Thelma for her family.