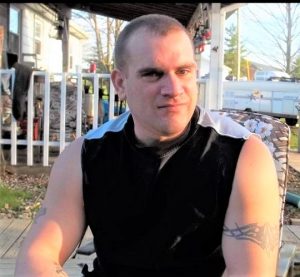 John Werner, 44 years old, from St. Leon, IN will be remembered for his kind heart and adoration for his family, especially his nieces and nephews. A graduate of East Central High School, he won many medals for his wrestling achievements. John was always involved in sports, whether he was lifting weights, shooting hoops, or playing on summer baseball teams. He was an avid fan of the Cincinnati Reds and Cincinnati Bengals and could recall stats of all their players with ease. John had a passion for fishing and loved to share this hobby with his nieces & nephew. He also enjoyed playing video games or doing just about anything with them. One could always count on John to help mow the grass or with any outside work that needed to be completed. And, John was especially fond of his black & gray cats. John's family are advocates of mental health awareness and suicide prevention awareness and encourage everyone to ask for help or reach out to those in need. Words of encouragement or assistance in obtaining further help can be lifelines. Green is the color of mental health awareness and teal & purple are the colors of suicide prevention awareness. Feel free to wear these colors to the service to show your support.
John will be dearly missed by his parents Tony & Ty Werner and siblings Jacob Werner and Jackie (Adam O'Neil) Werner as well as his nieces and nephew Gunnar, Lilah, and Finnley. John is preceded in death by his grandparents Al & Annie Werner and Jack & Charlee Wolf.
Visitation for John will be on Tuesday, August 3, 2021, from 9:30am – 11:30am at Andres-Wuestefeld Funeral Home at 25615 State Rt. 1, Guilford, IN 47022. Mass of Christian Burial will begin at 12:00pm with Father Jonathan Meyer presiding at St. Joseph Campus, All Saints Parish, at 25743 State Rt. 1 Guilford, IN 47022. For those not able to attend, mass will be lived streamed at https://www.youtube.com/user/aspweeklyhomily. Burial will immediately follow at St. Joseph Cemetery. Memorials can be made to Family Wishes to help defray funeral costs.  Memorials will be accepted at the visitation or can be mailed directly to Andres-Wuestefeld Funeral Home. Please visit www.andres-wuestefeldfh.com to sign the online guest book or offer condolences.