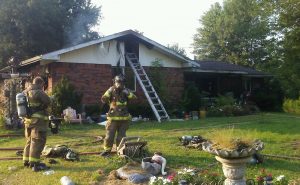 UPDATED:
VERSAILLES, Ind. – An elderly Ripley County man is dead following an explosion and fire at his home.
83-year-old Kenneth Hayes was cutting on a fuel tank outside of his home in Versailles Tuesday afternoon when there was an explosion, say investigators with the Indiana State Fire Marshal. The explosion started a fire that spread to a nearby garage.
Crews from the Versailles and Friendship fire departments were able to stop the fire from spreading to Hayes' home.
Hayes died from his injuries and his official cause of death is pending an autopsy, according to the Ripley County Coroner's Office.
–
VERSAILLES, Ind. –One person lost their life in an apparent explosion or fire south of Versailles Tuesday.
Shortly before 5 p.m., Versailles firefighters responded to the 6000 S. block of Benham Road for a report of an explosion and fire.
"Upon arrival firefighters found a fire outside of the residence had spread into the residence, unfortunately there was a fatality at this fire," the Versailles Fire Department posted on Facebook.
The cause of the fire is under investigation by the Indiana State Fire Marshal's Office.
"Our thoughts and prayers are with the family in their time of loss," the department said.