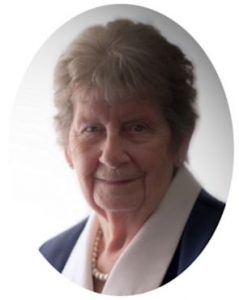 Rita J. Amberger, age 89 of St. Mary's, died Tuesday, July 27, 2021 at Ripley Crossing in Milan. Born April 9, 1932 in Dearborn County Indiana, she is the daughter of Emma (Nee: Bischoff) and Jacob Krieger. She married Robert Amberger September 12, 1959 at St. Martin's Church in Yorkville. Rita worked in the payroll department for Fernald for seven years, five years for Nolte's Pharmacy, and as a teller for 15 years at People's Bank.
A member of St. Mary's of the Rock Church, Rita generously donated her time and talents. She was a longtime member of the church choir, took care of always having fresh flowers in church and managed the carryout at the annual church picnic. She also took great pride keeping her flower beds around home blooming and looking beautiful. Rita loved her dog Max, was a member of the Red Hat Ladies, enjoyed playing solitaire – at least her version of it and to the amusement of her family, collected bird houses and souvenir bells from the bus trips she and Robert took over the years. As any good grandmother would do, Rita made sure her grandchildren had all the junk food their hearts desired and was always happy to make them "homemade" bread. Also, her cinnamon rolls will be sorely missed by family and neighbors alike.
Rita is survived by her husband Robert; daughters Janice (Roger) Lamping of Hamburg, Joyce (Doug) Gagne of Sunman, Judy Smith of St. Mary's; ten grandchildren and five great grandchildren with two on the way. In addition to her parents, she is also preceded in death by her son Kenny; sisters Sylvia Tebbe, Anne Merkel, Dolores Voegele; brother Elmer Krieger; son-in-law Glen Smith; granddaughter Corinne Lamping and great granddaughter Adalynn Miller.
Visitation is Friday, July 30th, from 10 a.m. – 1 p.m. at the Weigel Funeral Home. Funeral services will follow at 1:30 p.m. at Holy Family Church in Oldenburg with Rev. Carl Langenderfer officiating and burial in St. Mary's of the Rock Cemetery. Memorials may be made to the St. Mary's Preservation Society or Corinne's Believers Memorial Scholarship Fund. For online condolences go to www.weigelfh.com.