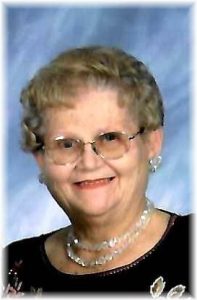 Edith Helen (Smith) Zimmer, 87, of Batesville, passed away on Wednesday, July 28, 2021 at Manderley Health Care in Osgood. Edith was born at her family's home in Milan on August 16, 1933 to Harvey and Velma (Howadel) Smith.
Edith married the love of her life, Wilbur R. Zimmer, on December 23, 1955 at the Methodist Church in Batesville where she was a member. Wilbur survives. From this union came their three children: Julie (Gary) McIntosh, Kathy (Jeff) Braun Gerbig, and Raymond (Fran) Zimmer.
After spending many years working at Krueger Maddux Greenhouse in Sunman, Edith eventually retired. However, she still remained active in her community. Edith was a member of the Happy Heart home economics club, the Post Teens home economic club, and the Indiana Volunteer Firefighters Association Auxiliary. She was a member of the Morris Fire Department Auxiliary for 25 years and enjoyed working all of the chicken dinners and pancake breakfasts. Edith loved to collect salt and pepper shakers and had an extensive collection of well over 1000 sets collected.
Edith and Wilbur loved to travel and made many memories on their tour bus rides all over the country. In her free time, she could often be found quilting, playing bingo, or spending time with her grandchildren who she loved dearly. In Edith's most recent years, she won a contest at Manderley where she was named Queen. Her prize was complete with both a tiara and a queen sash which Edith adored.
Edith is survived by her husband, Wilbur; her children; grandchildren Benjamin Braun, Kayla Bright, Amanda Meyer, Abby Zimmer, and Brent Bowling; great-grandchildren Emily Braun, Michael Braun, Lexie Meyer, Stetson Stutz; step great-grandchildren Sam and Caden Bright; brother Leslie (Virginia) Smith; step sister Roberta Breazeale; and sister-in-law Judy Smith.
She was preceded in death by her parents, her brother Paul Smith, granddaughter Heather Wells, and son-in-law Paul Braun.
Visitation will be held from 11:00 am to 1:00 pm on Saturday, July 31, 2021 with 1:00 pm funeral services immediately following, all held at Meyers Funeral Home. Burial to follow at Batesville Methodist Cemetery.
Memorials in honor of Edith can be given to the Morris Fire Department by bringing to services or mailed to: Meyers Funeral Home, P.O. Box 202, Batesville, IN 47006.
Please feel free to leave a memory or a message of comfort for the Zimmer family at www.meyersfuneralhomes.com in the online guestbook.