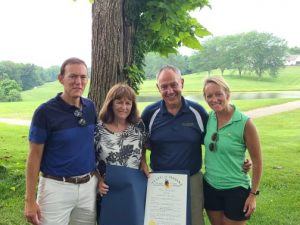 INDIANAPOLIS – Former Franklin County Prosecutor Mel Wilhelm is receiving the state's highest honor.
Wilhelm was presented with the Sagamore of the Wabash by State Rep. Randy Lyness.
Wilhelm served as Franklin County prosecutor for 40 years and at the time of his retirement in 2019, he was the longest-tenured prosecutor in Indiana.
"Mel dedicated his life to serving our community and upholding the rule of law," Lyness said. "He went above and beyond to help make Franklin County a safer place, and this award is a reflection of his character and reputation as a prosecutor."
According to Lyness, Wilhelm also served as the president of the Indiana Prosecuting Attorneys Council, which creates training materials, seminars and provides legal research. In 2018, Wilhelm received IPAC's Eugene "Shine" Feller award, which is the highest honor handed out by the association.
Dating back to the 1940s, the Sagamore of the Wabash award was created by former Gov. Ralph Gates. It is the highest honor the governor can bestow and is presented to distinguished Hoosiers who have made significant contributions to the state of Indiana.