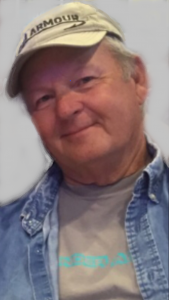 Jerry Lee Hinkle, 79, of Aurora, Indiana, passed away Thursday, July 22, 2021.
He was born August 27, 1941, in Carney, OK, son of the late Tracey Hinkle and Melba (Kelley) Hinkle.
He served his country as a member of the United States Army.
He worked as a laborer and supervisor for Lucent Technology, retiring after over 45 years of service.
Jerry enjoyed being a part of the Backwater Bassmasters, he absolutely loved fishing. He enjoyed mowing his grass and being outdoors. He loved spending time with his children and grandchildren, and his beloved cat, Wendell. He will be greatly missed by his friends and family.
Jerry is survived by his loving spouse of 59 years, Faith (Fussnecker) Hinkle, sons, Kevin (Mary) Hinkle of Aurora, IN, Kelly (Laurie) Hinkle of Hamilton, OH, Kris (Bridget) Hinkle of Lawrenceburg, IN, Jerry Lee (Holly) Hinkle II of Aurora, IN; sister, Patsy Hinkle of Stillwater, OK; half brother, Lance Hinkle of Stillwater, OK; grandchildren, Tyler, Maygan, Raquel, Nicholas, Bay, Ivy, Conner, Bentley, and Tessa Hinkle; step grandchildren, Lindsey, Carrie & Nicholas Solazzo.
He was preceded in death by his parents, Tracey and Melba.
Friends will be received Wednesday, July 28, 2021, 4:00 pm – 7:00 pm at the Rullman Hunger Funeral Home, Aurora, Indiana.
Services will be held immediately following visitation at 7:00 pm with Pastor Charlie Hill officiating.
Contributions may be made to the American Lung Association or Charity of Choice. If unable to attend services, please call the funeral home office at (812) 926-1450 and we will notify the family of your donation with a card.
Visit: www.rullmans.com