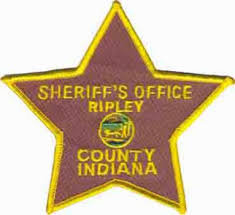 Ripley County, IN — A Dillsboro woman was injured in a wreck after she allegedly fled the scene of a property damage accident just after Noon on Sunday.
Ripley County Sheriff's deputies responding to the reported crash on US 50 in Elrod spotted debris in the road and damaged property in the area.
But the suspect reportedly fled to a gas station on US 50 in Dearborn County. Deputies from both Ripley and Dearborn counties responded to the gas station and found the suspect's heavily damaged vehicle and its driver, 44-year-old Amy B. Schaffner.
She was taken to St. Elizabeth Dearborn for treatment of a possible head injury. Her current condition is not known.
Witnesses reported seeing Shaffner driving recklessly as she drove west on 50 before the crash.
The accident is still under investigation.