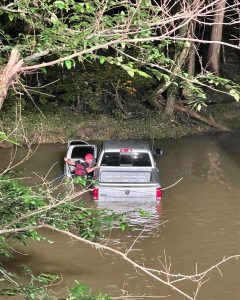 Decatur County, IN — Several Decatur County agencies were sent to the area of 500 North and 420 West for a water rescue over the weekend.
A vehicle was reported in the Little Flatrock River shortly after 4:15 am Sunday. The river was flowing too fast for a Decatur County Sheriff's deputy to get to the vehicle, so the Greensburg Fire Department came on the scene and a water rescue technician was able to get to that vehicle, which was unoccupied.
Also on scene at the time were the St. Paul Fire Department and Decatur County EMS. The Letts Fire Department arrived and launched a drone search while others conducted boat searches up and downriver.
Officials say no one was located.