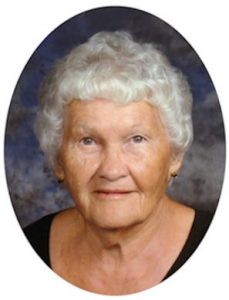 Irene Gertrude (Hornbach) Dickman, 87 of Batesville, passed away in her home at 6:13 pm on Saturday July 17, 2021. She was born in her home on Esther Ridge in Yorkville, Indiana on July 29, 1933. She was the daughter of Anthony and Mary (Hegarty) Hornbach. After graduating from Guilford High School, she married her love, Richard Dickman on June 19, 1954.
After graduation from high school, Irene worked in bookkeeping and sales at Home Furniture Store in Lawrenceburg, Indiana. She spent the remainder of her life nurturing her children, grandchildren and great grandchildren.
Irene took pride in her flower and vegetable garden and loved digging in the dirt. She is famous for planting hen and chicks in old boots and shoes.
She loved to celebrate her Irish heritage and shared family stories of how her mother made her way to America through Ellis Island in 1921. She loved celebrating reunions with her extended family was the official minute taker documenting the attendees and the previous year's award winners.
Irene and Richard enjoyed buying treasures at auctions and reselling the wares at the flea market in Miamitown and at her personal yard sales. The biannual family garage sales were full of "New, Used, Old and Unusual items".
The annual family campouts became a cherished tradition spanning over 40 years. Through the years when she was asked, "What do you want for your birthday?" She would reply, "a day of peace." She treasured having her home and kitchen always open for any family member or friend to stop in for lunch or a visit.
She was a woman who leaned on the power of prayer and her faith was strong. Irene and Richard were committed to providing their children a Catholic Education at St. Louis School and sending all 9 daughters to the now Oldenburg Academy.
She is survived by daughters and sons-in-laws Karen and Dave Snuffer of Shelbyville, Indiana, Mara and Steve Kruthaupt of Batesville, Ellen and Jeff Paul of Oldenburg, Shelia and Tim Merkel of Cincinnati, Geralyn and Gary Litzinger of Hamburg, Colleen and Greg Doll of Morris, Carmen and Gary Belter of Batesville, Nancy and Gus Kinker of Maryland, Ann and Tim Sweeney of Greensburg; sons and daughter-in-law Dennis Dickman and Vera of Greensburg, Daniel and Rhonda Dickman of Batesville; sister Marjorie Miller Wendell of Yorkville; brother Andy and Fran Hornbach of St. Leon; Maurice Hornbach of Harrison Ohio; 29 grandchildren and 22 great grandchildren. She was preceded in death by her husband of nearly 65 years, Richard Dickman; son Brian Dickman; sisters Kathleen Haas and Marie Gillman; grandson Zachary Litzinger and daughter-in-law Mary Dickman.
Visitation is Thursday, July 22nd, from 9 a.m. – Noon at the Weigel Funeral Home. Funeral services follow at 12:30 p.m. at St. Louis Church with Rev. Stan Pondo officiating and burial will be in the church cemetery. In lieu of flowers, the family prefers memorials to the St. Louis Cemetery Fund, Zachary A. Litzinger Memorial Scholarship Fund or Margaret Mary Health Foundation Hospice. For online condolences go to www.weigelfh.com.