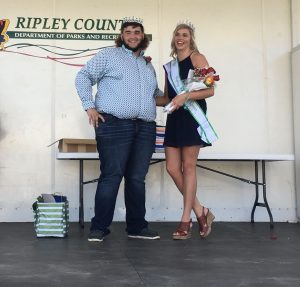 Osgood, IN — Opening ceremonies for the 2021 Ripley County 4-H Fair took place Sunday night at Fairgrounds Park in Osgood.
The highlight of opening night was the crowning of the 4-H King and Queen.
Shalee Harrington, who was named Miss Ripley County 2021 last Sunday, will also serve as this year's 4-H Queen.
Harrington is the daughter of Dawn Harrington of Batesville.
The 4-H King is Ethan Hansen, who has a full week ahead of him. In addition to serving in his role as 4-H King, Hansen has six animal projects he will be showing this week.
Hansen is the son of Jason and Monica Hansen of Versailles.
The Ripley County Fair runs through Saturday.