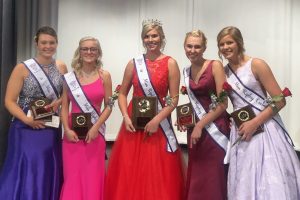 Osgood, IN — Shalee Harrington was named Miss Ripley County 2021 at last night's pageant at the Damm Theatre.
Harrington is a 2021 graduate of Batesville High School and Ivy Tech Community College. She is attending the Caris College Sonography Program this summer to become a medical sonographer. Harrington is the daughter of Dawn Harrington.
McKenzie Laker of Batesville was named 1st runner-up; 2nd runner-up is Abbey Knowlton of Osgood; 3rd runner-up is Shaylee Volz of Osgood, and Katherine Bedel of Oldenburg was named 4th runner-up.
Volz was also named Miss Congeniality, Formal Wear Award winner, and the recipient of the "Kind" Scholarship.
The People's Choice Award went to Emalee Veerkamp of Osgood, while the Professional Wear Award recipient was Emily Campbell of Versailles.
Harrington will reign over the Ripley County 4H Fair, which begins Sunday.
WRBI's Brent Lee served as the pageant's Master of Ceremonies.