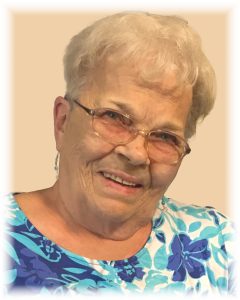 Gretchen (Haverkos) Enzinger, 86, of Oldenburg, IN passed away surrounded by her family on July 9, 2021. She was born on May 5, 1935 to Edwin and Cecilia Haverkos. She is survived by her husband of 65 years, Louis Enzinger of Oldenburg, IN; 4 children, Marty (Karen) Enzinger of Batesville, Jennifer (Tom) Sanderson, of Fair Oaks, CA., Gerard (Carla) Enzinger of Oldenburg, IN,  Maria (Bob) Huber of Guilford, IN; 12 grandchildren; and 9 great-grandchildren and one on the way. She was preceded in death by her parents, 2 brothers (Jerome and Romauld) and 1 infant child (Lorelei).
Gretchen was a graduate of Oldenburg Academy of the Immaculate Conception. She worked at Union Furniture Company and then worked at Batesville Casket Company where she later retired. She loved playing cards and was a member of both the Oldenburg Mission Card Club and Daughters of Isabella. In later years, you would often find her at her home playing cards with her family and friends. Some of her favorite card games were Hand and Foot, Golf, Swoop, 500 and War. Gretchen was a member of the Red Hat Ladies and some of her other interests were upholstering, and camping/traveling with family and friends.
She enjoyed her occasional glass of wine and Margarita. She made sure she always had a stash of Chocolate, Oreos and various other sweets for whoever stopped by (mainly grandchildren). She is known for her Famous Homemade Egg Noodles and her French Cookies and homemade cheesecake. Her face lit up every time one of her grand children and great-grandchildren walked through the door.  She was a mother to more than just her family. She touched the lives of everyone she met and never had a bad word to say about anyone.
Visitation will be Friday, July 16, 2021 from 9:00 AM to 11:00 AM at Holy Family Catholic Church in Oldenburg, Indiana with mass immediately following at 11:00 AM. Mass will be livestreamed through the Holy Family Church Oldenburg, IN Facebook page.
Memorial contributions may be made to the Church Window Renovation Fund or the American Lung Association. They may be brought to services or mailed to: Meyers Funeral Home, P.O. Box 202, Batesville, IN 47006.
Please feel free to leave a memory or a message of comfort for the Enzinger family at www.meyersfuneralhomes.com.