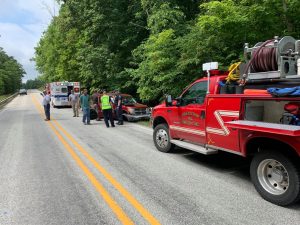 Olean, IN — One person was injured in a single-vehicle accident on State Road 129 near Olean late Thursday morning.
Investigators say the northbound vehicle went off the road, struck a guardrail, skidded across the road, and came to rest against the southbound guardrail.
The unidentified victim was treated at the scene and taken to the hospital by Ripley County EMS.
Other responding agencies included the Ripley County Sheriff's Office and the Friendship Volunteer Fire Department.