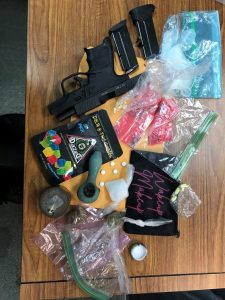 Seymour, IN — This weekend, aggressive holiday patrols by troopers from the Indiana State Police-Versailles District led to the arrest of a Bowling Green, Kentucky man on numerous drug and gun-related charges.
On Saturday, July 3, just before 11 am, Trooper Randel Miller conducted a traffic stop on a 2013 Nissan Altima on I-65 Northbound near the 54-mile marker in Jackson County, Indiana for a traffic violation. During the course of the traffic stop, Trp. Miller discovered that criminal activity was possibly taking place. Troopers Jason Hankins and David Owsley responded to assist with the investigation.
During a search of the vehicle, troopers located approximately 15 grams of suspected crystal methamphetamine, 8 grams of suspected marijuana, THC gummies and fruit rollups, drug paraphernalia, prescription medications, and a 9 mm handgun.
The driver of the vehicle, Stephen Richards, age 40, Bowling Green, Kentucky, was arrested on felony charges of Dealing Methamphetamine (over 10 grams) and Dealing Methamphetamine (with a handgun), as well as misdemeanor charges of Possession of a Controlled Substance (two counts), Possession of a Legend Drug, and Possession of Drug Paraphernalia.
Richards was transported to the Jackson County Jail where he was incarcerated pending his initial appearance in the Jackson County Circuit Court.
(Indiana State Police/Sgt. Stephen Wheeles press release)