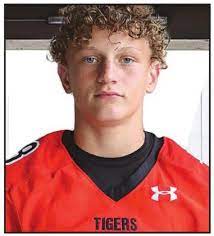 Lawrenceburg, IN — The Lawrenceburg community is mourning the passing of Brady Gabbard.
The 14-year-old Lawrenceburg High School sophomore football player passed away Friday night, just weeks after he was diagnosed with Stage 4 cancer.
The lights at high school football stadiums and athletic fields throughout the area and beyond were turned on for two hours Saturday night in Brady's memory.
A prayer and memorial service will be held at 6:30 tonight at the Lawrenceburg High School multipurpose field. Counselors will be on hand to provide support.
A Celebration of Life for Brady Gabbard will be held Friday from 11 am until 2 pm at LHS, with funeral services to follow at 2.