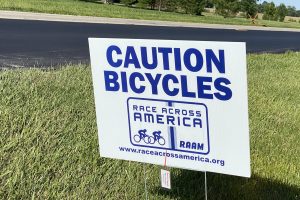 Southeastern IN — You may have seen signs posted around Batesville, Greensburg, and other places around Southeastern Indiana this week, cautioning drivers to watch out for bicyclists.
The signs were for Race Across America, a grueling bicycle endurance race that started in Oceanside, CA, and ends in Annapolis, MD.
Local communities have been serving as a couple of the race's stops and timing stations.
Besides the signs, the racers had a trail vehicle shadowing them to help ensure the safety of the bicyclists.
A number of participants use the race to raise money for charity and bring attention to those causes.
To learn more about this nationwide bicycle race, visit www.raceacrossamerica.org.