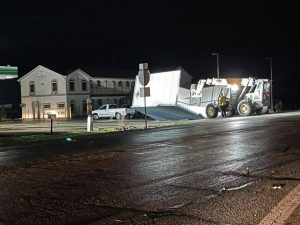 Southeastern IN — It was a Friday night full of violent weather throughout Southeastern Indiana, with problems continuing into Saturday. Tornado warnings and severe thunderstorms warnings were issued due to heavy rain, lightning, thunder and some hail, along with numerous flash flood advisories, watches and warnings.
A funnel cloud was spotted over Laughery Valley between Olean and Friendship around 9pm, which prompted a tornado warning to be issued for Ripley County. Tornado warnings were also issued for Franklin and Dearborn counties.
One heavily hit area was New Point. Law enforcement asked people to avoid that area so that crews could clean up storm damage. A large shed was reported upside down in the BP parking lot. There were several trees downed along SR 46 between Batesville and Greensburg. South Pocket Road was closed because of a tree down across the roadway. Decatur County EMA reported widespread reports of trees down in and around Greensburg and in the eastern part of the county. As of things weren't bad enough, electrical and structure issues briefly hampered efforts at Decatur County dispatch at the beginning of the storm, but all systems were restored by IT.
Decatur County was placed under a yellow travel advisory due to high water on a number of county roads.
There are multiple areas of high water within the city of Batesville, with reports of some people having to be rescued from homes and vehicles surrounded by water. Batesville Police reported parts of Mulberry Street underwater and – as usually happens when there's heavy rain – the Huntersville Road underpass flooded and became unpassable.
Flooding occurred all over Ripley County. Communities such as Napoleon, Friendship, Morris, Sunman and a number of other areas had to deal with roads deemed unpassable. Ripley County was placed under an Orange travel advisory.
The Franklin County Sheriff's Office had reports of trees down throughout the county. There were also a number of unpassable roads due to flash flooding Saturday, which led to Franklin County being placed under an Orange travel advisory.
A portion of the roof of the Willie's restaurant in Dearborn County's Hidden Valley area was torn off by the storms. The restaurant was closed Saturday for damage assessment and for arrangements being made to make repairs. Dearborn County was placed under an Orange travel advisory because of widespread flooding and water covering roadways.
There were also sporadic reports of water rescues taking place, in which motorists drove through high water and had to be rescued from their vehicles.
Despite all of the problems around the area, there have been no injuries reported.