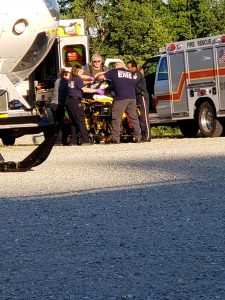 Friendship, IN — An unidentified motorcyclist was injured in a crash on the 7000 block of South Friendship Road around 6:45 last night.
The bike went off the road, 50 feet down a hillside. The motorcyclist was the only person on the bike and was alert and responding when rescuers arrived on the scene.
Friendship Volunteer firefighters, Ripley County Sheriff's deputies, Ripley County EMS, and a passerby who runs with Dillsboro EMS all worked to bring the man to safety.
In addition, Ripley County dispatchers are being credited for extra efforts due to poor emergency radio reception in the area.