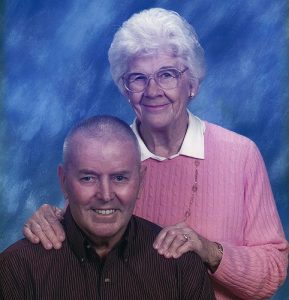 Jean Ruwe, 88 years old, of St. Leon, IN passed away peacefully on Sunday, June 13, 2021. A devout Catholic, Jean was very giving of herself and her time. She would rather take on a burden herself instead of putting someone else out. She didn't have an easy life, but she played the cards that she was dealt and was proud of the life she created for her family. Jean enjoyed working in her flower garden and loved to sew and crochet. In addition to the many afghans she crocheted, Jean sewed her grandchildren's christening outfits. Jean had a great sense of humor and loved to surround herself with her grandchildren who lovingly referred to her as "GG". She liked turtles and enjoyed watching hummingbirds. Married to her husband, Tom, for 58 years, Jean and Tom loved to travel. All he had to say was load up the camper with food and they were off! Traveling down back roads or to their special place in Alabama, they truly enjoyed their time together. Their love was deep and her desire to make him happy was a part of who she was.
Jean will be deeply missed by her children Kathy (Henry) Eckstein of Sunman, Diane (Mark) Broughton of St. Leon, David (Barbara) Ruwe of St. Leon, Beverly (Joe) Rauch of Yorkville, 13 grandchildren and 37 great grandchildren, and many nieces and nephews. Jean is preceded in death by her husband Tom Ruwe, son Gary Ruwe, parents John & Pauline Bauer, sister Ruth Shoemaker, and sisters & brothers-in-law.
Visitation for Jean will be held on Thursday, June 17 from 11:30am – 12:30pm at St. Joseph Catholic Church, All Saints Parish, at 7536 Church Lane, W. Harrison, OH 47060. Mass of Christian Burial will begin at 12:30pm with Father Jonathan Meyer presiding. Burial will immediately follow at St. Joseph Cemetery. For those not able to attend, mass will be live streamed at https://www.youtube.com/user/aspweeklyhomily. Memorials for Jean can be made to Sunman Life Squad or St. Nicholas Heritage Project. Memorials will be accepted at the visitation or can be mailed to Andres-Wuestefeld Funeral Home at 25615 State Rt. 1, Guilford, IN 47022. Please visit www.andres-wuestefeldfh.com to sign the online guestbook and offer condolences.