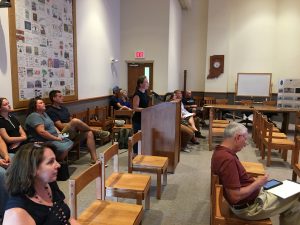 Batesville, IN — Batesville City Council last night voted to contribute $5,000 in Belterra Funds toward the Skatepark project. That amount is less than the $25,000 requested by Dr. Amy Carpenter with Batesville Area Skatepark Advocacy.
Carpenter said she is a bit disappointed and had hoped to receive more money for the project. But Council President John Irrgang made the motion to contribute $5000, saying the city has already contributed a significant amount toward the project – $50,000 – and that Belterra Funds are starting to dwindle.
In addition to the funding request, Carpenter gave Council an update on fundraising efforts to build the Skatepark, which will be located in The Plex at the corner of Pohlman Avenue and Delaware Road.