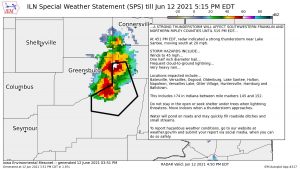 Franklin/Ripley Counties, IN — Severe thunderstorms rumbled through the area Saturday evening.
Heavy rains in a short amount of time caused flooding which forced the closing of a number of roads in Franklin County. The Sheriff's Office says Snail Creek Road between Coffee Road and Shop Road remains closed until further notice due to deterioration caused by the flash flooding.
In Ripley County, several tree limbs were reported down near Osgood, and a flash flood caused water to flow over Old Michigan Road.
Despite the rough weather, there were no reports of injuries.