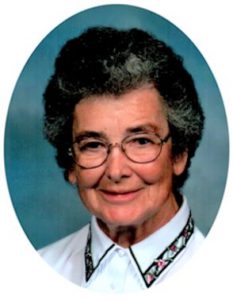 S. Kathleen McCarthy, formerly S. Mary Agnes, age 91 of the Sisters of St. Francis in Oldenburg, IN died on June 12, 2021 at the Motherhouse in Oldenburg. Born on July 6, 1929 in Cincinnati, OH, she was the second of eight children born to Joseph and Inez (Stahl) McCarthy.
A native of Cincinnati, Kathleen was the first daughter born into the family and arrived the same year the stock market crashed. Kathleen attended Linwood Public School, including kindergarten – which was a rare opportunity at the time. She later attended Our Lady of the Angels High School in St. Bernard where she met the Oldenburg Franciscans. In her autobiography she noted, "I was so impressed by them that I entered the convent in 1948."
Following her entrance, Kathleen earned degrees from Marian College in Indianapolis and Creighton University in Nebraska. She continued her education through the years while attending the College of Steubenville, University of Cincinnati, Xavier University and Miami University, all in Ohio.
Kathleen's teaching career started in Indiana as a primary school educator for 11 years at St. Lawrence School in Lawrenceburg, IN, followed by teaching 3 years at the junior high level at Holy Trinity in Indianapolis before moving on to the Cincinnati area beginning at Our Lady of Victory for four years, followed by 12 years as principal and educator at St. Clare School, then principal for one year at St. Catharine, then 13 years as principal at St. Pius before returning to teaching junior high at St. Boniface for six years.
In an interview in 1985, Kathleen commented, "I often feel that I work eight days out of seven … but that is okay as I want to help people lift themselves up in a system that makes that so hard for them to do. Because I care about the spiritual, material, and educational needs of the people I serve."
In 2006 as Kathleen's health began to decline, she moved into St. Clare Hall where she served as a companion to other Sisters in the healthcare facility. In 2008 she retired and maintained her ministry of prayer as her memory continued to fade and, through the years, the Sisters became her companion as she journeyed to her eternal home.
Preceded in death by her parents, Joseph & Inez (Stahl) McCarthy, brothers James, William, Thomas and Michael McCarthy and sisters Mary Ann McCarthy and Judy Fewell. Survivors include brother Jerry McCarthy of Kentucky and numerous nieces and nephews.
Visitation is Thursday, June 17th, from 1 – 3 p.m. at the convent. Funeral services follow at 3 p.m. with Rev. Jim Meade officiating and burial in the convent cemetery. Guests who have been vaccinated are welcome to attend but masks are mandatory. For those unable to attend, services will be live-streamed at https://youtu.be/9AcwsBtRLZA. Memorials may be made to the Srs. of St. Francis, P.O. Box 100, Oldenburg, Indiana, 47036 (www.OldenburgFranciscans.org).