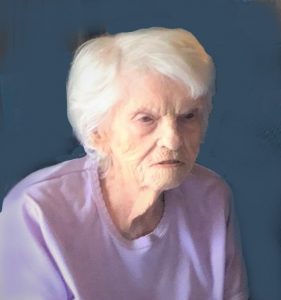 Annabell Lucille (Riggs) Johnson, 96, of Aurora, Indiana, passed away Saturday, June 12, 2021, in Lawrenceburg, Indiana.
Lucy was born February 17, 1925, in Aurora, IN, daughter of the late John Riggs and Edith (Humphrey) Riggs. She worked for Seagram's Distillery, retiring after over 44 years of service. She was a member of Lawrenceburg Eagles Auxiliary. Lucy volunteered for the Boy Scouts and the Girl Scouts of America. In her younger years, she enjoyed bowling, and playing golf. Lucy loved spending time with her family, especially the grandkids.
Lucy is survived by her loving children, Ernest Ray (Brenda) Johnson of Aurora, IN, and Linda Sue (Darrell) Franklin of Elrod, IN; grandchildren, Angela Jean (Kelan) McNaughton, Jennifer (Jared) Ohlmansiek, Sarah (Dustin) Simon, Rebecca Ann (Chad) Ahrens; great-grandchildren, Dylan and Dustin Hyatt, Dakota Zimmer, Caleb James Johnson, Ellie and Cara Ohlmansiek, Brooklyn, Payton, and Morgan and Quinn Simon, Blake, and Gracie Ahrens; siblings, Rosie Kippler of Lawrenceburg, IN, Lauretta "Corky" Humphrey of Rising Sun, IN.
She was preceded in death by her parents, John Riggs an Edith (Humphrey) Riggs; husband, Edward Allen Johnson; Grandson, Timothy "Pup" Johnson siblings, Thelma Theis, Oliver "Skeets" Riggs, and John Riggs.
Friends will be received Wednesday, June 16, 2021, 11:00 am – 1:00 pm at the Rullman Hunger Funeral Home, 219 Mechanic Street, Aurora, IN. Eagles Auxiliary services will be held at 12:30pm.
Services will be held at the Funeral Home, Wednesday at 1:00 pm with George Potter officiating.
Interment will follow in the River View Cemetery, Aurora, Indiana.
Contributions may be made to the Timothy "Pup" Johnson Memorial Scholarship Fund or Aurora Life Squad. If unable to attend services, please call the funeral home office at (812) 926-1450 and we will notify the family of your donation with a card.
Visit: www.rullmans.com